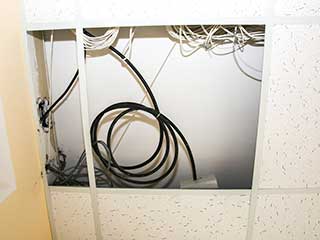 When you need to install electrical appliances or wiring, safety is paramount. That's why it's good to have local experts to turn to for help. The electrical installation process can be an intimidating prospect for the inexperienced and untrained. That's why our Beverly Hills electricians make things as easy as possible. We offer a full-service list for wiring and installing lights, appliance,s nad more. You can call Electrical Beverly Hills any day of the week, and expect our affordable services that same day!
Best Beverly Hills Electrical Installation Services
Electrician contractors like ours need a versatile skill set to meet the needs of any home or workplace they're called to. That's why we only hire the best general electricians in LA county! Our team has years of experience with all aspects of electrical installation and repair. Need some dimmers added to your light switches, or complete lighting systems installed? We can swap out any control panels and light fixtures you want, or put in entire new circuits. Having issues with power outs and surges? Our electricians can put in some new circuit breakers, or a new board entirely! Insulation replacement, smoke and carbon monoxide detector services, and more. Our electrical installation menu is almost too long to write out!
Switches, Dimmers, And Lighting Installation
Most of your day to day interaction with your household electric circuits is probably through the light switches. For more control over your light conditions, you can let us add dimmers to the switch panels. This is a very quick and easy electrical installation job. Ordinary light fixtures work just fine with turning and sliding dimmers, no special parts or light bulbs needed. By adding some extensions to your circuits, our electricians can also put in new features. These include light fixtures, switches, and electrical outlets where there were none before.
Installing Electrical Wiring
If your building is hooked up to a municipal power grid, it should have an electrical board. This is where the energy splits into the circuits that run through your walls and ceilings. Each circuit brings electricity into a different part of the building. Every one of them should have its own circuit breakers and switches on the board. If you're having trouble with circuit capacity or board safety, our electrical installation services are the solution! We can replace bad circuit breakers, touch up or even reinstall the entire board if needed. Electrical installation services can also include installing new electrical circuits or rerouting existing ones.
Smoke Detectors, Carbon Monoxide Sensors, And Fire Alarms
Safety is the first priority in any engineering project. Electrical installation is no exception. If your smoke or carbon monoxide detectors are giving you false readings, you can't afford to wait before fixing them! Electrical Beverly Hills's electricians can install or replace your home safety detectors and alarms. Even trace amounts of carbon dioxide can be dangerous for babies and the elderly, so a broken carbon monoxide detector can lead to tragedy. A faulty fire alarm system, of course, can mean total catastrophe. Take no chances with these vital systems! A simple, inexpensive electrical installation project is all it takes to prevent disasters.
Beverly Hills Electricians Near You!
You've got local professionals at your service Sunday through Saturday when you turn to Electrical Beverly Hills. We offer LA County properties affordable and safe solutions, that stay reliable for a long, long time. Our cheap electrical installation services make property ownership a safer, easier prospect. A team of our electricians is never further than a few hours from your address. Call us today, and solve your electrical woes before they have serious consequences!