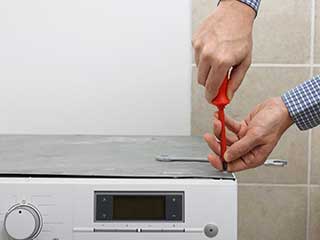 From electrical wiring repairs to appliance troubleshooting and fixing, you can be sure that Electrical Beverly Hills has you covered on all fronts. We can fix anything, thanks to our local electricians' high level of experience and expertise. This includes everything from faulty circuit breakers to stoves, washing machines, fridges and more. There's nothing we can't fix, and we always keep our costs low. You won't need to worry about the price of getting emergency electrical repairs taken care of. Our cheap rates accommodate a variety of budgets. Whenever you need help from local electrician contractors with repairs, go ahead and let us know.
Local Electrical Repairs In Beverly Hills
When you have a problem that needs to be fixed quickly, like a faulty refrigerator, we're ready to help. We're the nearest electrician in your area, which means we're on hand to help as soon as you need us. From electrical cord repairs to highly technical work, our team can get the job done with minimal disruption to your daily schedule. We fix all kinds of general electrical appliances, so if your stove stops working or your smoke detectors need work, then it's us you need to call. Simply call ahead for a free quote, and our contractors will come out to help you whenever you need them.
Beverly Hills Electrical Repairmen
We specialize in offering high-quality home electrical repairs. Our electricians are highly professional, and we understand how important it is to give you top-quality service. That means our team will always work hard to get the work finished on time and as cheaply as possible. We want to minimize disruption when we're providing electrical repair services. Because we're the closest Beverly Hills electricians in the area, we make life easy for home and business owners. A faulty panel or a broken wall outlet is no problem for our pros. You can easily get cheap help from our local electrical repair contractors every day of the week, anywhere near LA County.
Our Low Prices On Electrical Appliance Repairs
Any Beverly Hills home has countless appliances, any of which can go wrong. Major general electrical appliances like your washing machine, cooker and microwave can break down and cause big problems for you. Our electrical repairmen will take care of these issues swiftly though, minimizing disruption to your daily routine. You never have to feel like you're stuck when you have our team of nearby electrical repair specialists on your side. Need additional info? Give us a call. Find out more about our low, affordable costs for electrical repair services today.
Cheapest Electrical Repair Company Near Beverly Hills
Why pay more than you need to for top-quality electrical repair services? The Electrical Beverly Hills team is proud to give you the professional level of service you expect, at reasonable rates. When your lights don't work, or you have a malfunctioning panel of circuit breakers, never worry. Our electrical repair contractors are in the area and ready to lend a hand whenever you need it. Call us today for speedy repairs by Beverly Hills electricians in your area.