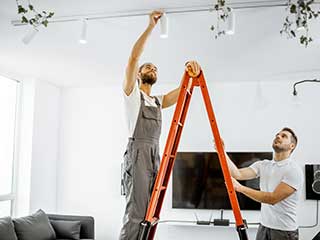 We're proud to offer you an amazing range of lighting installation services for outdoors and indoors. Our skilled Beverly Hills electricians install everything from recessed lights to motion sensor exterior lighting. No matter what you need, you can be sure we'll deliver your complete satisfaction. The Electrical Beverly Hills team is always happy to provide advice, so if you'd like a little guidance from the professionals just get in touch. We'll provide a free estimate for any work, and answer any questions you might have.
Cheap Exterior Lighting Installation Deals
A well-lit exterior is a great way to put off would-be burglars. You'll keep thieves at bay, and you'll also be able to maximize the use of your outdoor areas. Exterior lights let you entertain on your patio and in the yard until well after dark. We provide a huge range of exterior lighting installation services. If you need artful illumination for your patio or your pool, we can help with that. If it's motion-sensitive intruder lights, then our electricians will make sure your exterior lighting setups work to protect your property all night long.
Professionally Installed Recessed Lights
Update any room with high-quality recessed lighting. These lights are unobtrusive and are an easy way to add an extra dimension to any part of your property. Bring a sense of space and comfort to your kitchen, living room or office with recessed lighting. The process for recessed lighting installation can be difficult, as the units must be fully mounted within the ceiling. However, our experienced technicians will ensure there are no problems. We'll get your new recessed lights installed quickly and to our usual high standards. Find out about our low prices and get a free quote by calling today.
Quality Indoor Illumination
Any room can benefit from well-planned, high-quality lighting. Electrical Beverly Hills provides a full interior lighting installation service that makes it easy to improve any room. Our electricians can fit any style of light from traditional fixtures to track lighting. That means there's no limit to what you can achieve, other than your imagination. We supply a huge array of different fixtures, suitable for interior lighting in any property. Whether your home is art-deco or cutting-edge modern, we can install interior lights that accentuate its best features.
Affordable Holiday Lighting Installation
When the holidays come around, it can be frustrating trying to put up the holiday lighting. Nobody wants to spend their weekend untangling reams of lights, or at the top of a ladder in the freezing cold. Why not let us handle it? Our experienced electricians provide a fast, low-cost alternative to DIY holiday light installation. We're available all year round, as well, so whether it's Christmas decorations, a Diwali celebration, a street party or a barbecue, we're ready to help. For cheap holiday lighting installation in your area, we're the team to call.
Beverly Hills's Best Lighting Installation Electricians
There's no need to compromise on price or quality when you work with Electrical Beverly Hills. Our electricians are the best in the business, and we always get the job done quickly. If you're interested in our professional lighting installation services, simply get in touch with us for a free estimate. We're always available to discuss your requirements, at any local LA address. Call anytime to schedule an appointment.